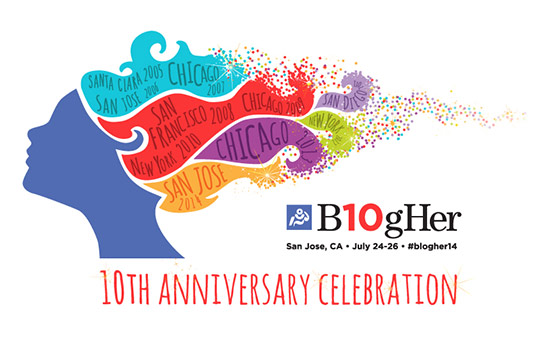 Up until a few days ago, I was quite certain that once again I would not be attending BlogHer even if it is thisclose to me. Disappointed? Yes. But it's reality I told myself. Then opportunity came along and, well, I'm going!
Ten years of BlogHer. Ten years of bloggers and writers everywhere putting ourselves out there laid bare, exposed for the interwebs to look at, examine, identify with, judge. It's been ten years of me putting my self out there on this here blog. How appropriate that I will join in on the #Selfiebration as we celebrate and reflect a little on what it is that we do…why we do it…why we hit publish every time that we do. We all have our reasons. So many of the reasons here I identify with so much.
Before Adventures in Juggling, I never really had a voice…a voice that wasn't shouted down or talked over or told to just be quiet. Ten years of expressing myself and saying the things out loud here that I could never say anywhere has been a good thing…a very good thing. I've weathered the storms of raising an angry teen…and a few more teens, perhaps just as angry or perhaps not. I've appreciated the good in my life as a juggling mom. I've worked through the tears and fears and frustrations and the incredible loneliness of caring for and raising a beautiful child whose daily special needs required even more intensive parental care if not more hours in the 24 hour day. I've even have survived peri-menopause and now menopause without going completely hormonal on the entire world…especially my circus and family. You who tried to shout me down, talked over me or flat out told me to be quiet should be thankful…really.
And with that voice that I found I also found community, a community with whom I look forward to re-connecting with, hugging on, encouraging and inspiring this weekend.
I can't wait!